When was the last time you wrote a blog post for your website? If you're like many of the business owners I've met, the answer is a long time ago or never.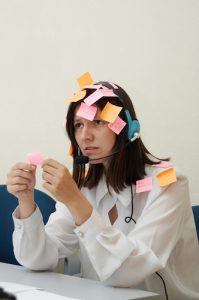 There are too many other business-related tasks to complete. While we know blogging is a great way to get Google's attention, it's not as important as networking, professional development, or meeting new customers and prospects. Not blogging shouldn't be an option, so here's how to start a blog when you have no time to write.
Stop Overthinking Blogging
In my blog post 10 Ways to Generate Blog Post Ideas, I offered simple steps for developing a list of ideas, including answering your most-asked questions.
An effective blog post is 300-500 words, gives tips on a specific topic related to your business or industry, and ends with a call to action. Dig into your email and find the question you answer the most. Take that answer, refine it as a blog post, and hit publish. The next time someone asks you that question (and you know they will), refer them to your blog.
Use Social Media to Share Content
Are you reading a lot of interesting articles related to your business? Share those articles on social media instead of rewriting the same idea for your own blog. Add a note like I found this article to be especially helpful regarding finding time to blog or I never thought about planning my blog post topics ahead of time and here's an easy way to do it. Even though you're not the author, you're providing value to the reader.
When to Re-Write Content
If you read an article and have an opinion or spin different than the author, write your thoughts in a blog post. Otherwise, just share the original article.
Website Design
There's something distinctly different about the updated 910 West website. We don't have a blog linked from the navigation. We did this on purpose after finding that most of our blog traffic came through social media. For the last few months, we've been sharing blog content directly to social media. Rather than showcasing our blog feed, we provide a news feed from our LinkedIn profile.
Our new design is still an experiment, but we're seeing results and no drop in traffic. If you're interested in learning more about blogging when you have no time to write, contact 910 West today!