Gilbert, AZ – Anne McAuley of McAuley Freelance Writing announces launch of new website designed by 910 West. The site includes services for blogging, copywriting, and content strategy, a revamped business-focused blog, and sample portfolio of client work.
910 West is an online, boutique marketing company based in Gilbert, Arizona that specializes in working with established, service-focused small businesses to build long-term relationships that create lasting success. 910 West's strategic marketing services, including website design and optimization, email marketing and nurture campaigns, social media and online listing management, Attracts, Educates, and Engages your ideal client in order for your business to Get Found.
"The re-designed website was a long time coming," comments McAuley. The old website wasn't designed to attract new clients and it wasn't mobile friendly. Working with the team at 910 West, we developed a website that attracts new clients, is mobile friendly, and tells the story of my business."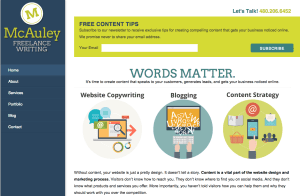 A member of the Gilbert Chamber of Commerce since 2012, McAuley enjoys working with small to medium sized businesses, providing writing services, including blogging, to businesses across the Valley and nationwide.
"The blog on the new website is targeted toward business owners seeking more information about writing online content. Using the tips provided, they can try blogging on their own or hire me to help them get their brand message to their target audience," says McAuley.
Visit the new McAuley Freelance Writing website at http://mcauleyfreelancewriting.com/.
Owner Anne McAuley believes that words matter, especially when it comes to online content marketing. What you say and how you say it is the difference between landing a deal and losing a customer. She can be reached via email at anne@annemcauley.com or phone at 480-206-6452.