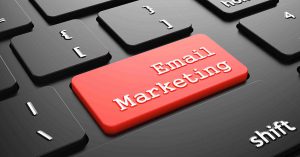 Email marketing services abound. Choosing the right one can be overwhelming. Knowing how you plan to use email marketing makes choosing the right software much easier. (For more on its use, read Choosing the Best Email Marketing Software for Your Business.) Evaluate the services with your needs in mind and select the one best fitted to your purpose and budget.
Since I do it for a living, I have had the opportunity to try many of the email marketing services available. This article collects a few of my faves and the best email marketing software for small businesses. The services mentioned are not only what I use for promoting 910 West, but also what I regularly recommend to clients and prospects.
The Fine Print
Before moving on, a quick word about spam. Misusing email is a major problem. It's not only annoying opening an inbox full of unsolicited messages, but also illegal. That's right. Email marketing has very strict legal requirements. (Click here for details.) All email marketing services reviewed follow these guidelines and have systems in place to keep you on the right side of the law.
Best for Newsletters and Promotional Blasts
MailChimp is easy to use and intuitive, with well designed email templates that make your business look professional and polished, without your having to know code. The pricing model allows entrepreneurs and start-ups to build a database before having to invest any money, which means sending emails is free up to 2,000 subscribers (12,000 emails/mo).
If you are just starting an email marketing campaign, this is an easy program to get up and running quickly. You can code your own, work out of templates, or use the drag and drop editor to create unique messages.
Constant Contact allows you to manage your social media, run a survey or an event, or even create coupon-like deals for your business. Then, you can track the results of everything that you do. They offer an assortment of stock templates, which is pretty comprehensive, so you can choose the best one for your email campaigns.
Constant Contact has less flexibility, but adds tools not available in MailChimp. Constant Contact uses an ala cart pricing model, so it can get expensive as you add features, and it does not have a free version like MailChimp.
Best for Autoresponder Campaigns and Marketing Automation
AWeber allows you to tell who has opened your email and which links they have clicked on and when. Since most readers are hesitant to click on links with a long and cryptic URL, AWeber's the destination URL points straight to your domain and the click is still tracked, resulting in increased click throughs as opposed to other email marketing services.
AWeber also provides conversion tracking for those who sell products, and tracks how each reader moves through your website from each email campaign. The way they manage follow up emails allows you to know exactly which person has received which follow up emails and when.
Infusionsoft can integrate your E-commerce with the system and manage your database of prospects and customers, but it also does a great job of running full-blown marketing automation campaigns. Infusionsoft has a variety of plugins that make it easy to do almost anything you want without hiring an expensive developer. Multiple safety nets mean you can stop campaigns, including removing one or more people from a campaign, so that mistakes are more easily avoided.
The learning curve may be longer than some of the other email marketing software featured, but many believe it's worth it.
MailChimp is constantly improving their autoresponder function and its current features put it on par with AWeber. Autoresponders are only available on paid accounts, but at $10 a month, it's a much smaller investment than either AWeber or Infusionsoft.
MailChimp also offers integrations with top CRM (contact management) and automation services that make it as feature-rich as Infusionsoft. Because you can select only the feature you need, it has a much lower learning curve.
Email Marketing Services, Choose Wisely
Whichever email marketing service you choose for your business, keep in mind what you need it to accomplish. Does it provide comprehensive analytics on how all of your campaigns perform? Will it be able to set up an RSS feed if you want one? Is it scale-able, which is helpful if you sometimes send a lot of emails and other times send few? Will the email marketing software you choose auto-tweet to Twitter and auto-post to Facebook and LinkedIn? What customization capabilities are offered?
You want to be able to grow your business quickly and setting up email marketing software can be a powerful business tool. So get your feet wet and dive into email marketing!