You have a website for your business; great! But we've all heard of hackers who take over a company's website or the disasters that can occur when a site crashes, so let's discuss WordPress security and maintenance.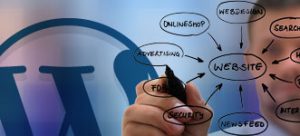 Keeping your WordPress website safe and secure means being vigilant about updates and security. The biggest issue, running outdated software, leaves you open to malicious attacks.
I can't overstate the importance of keeping your core up-to-date. WordPress makes it easy. It alerts you to new updates on your dashboard at every login. You can also enable automatic updates through the WordPress admin panel. Be cautious with automatic updates. WordPress core updates can cause conflicts with themes and plugins, causing your site to behave unexpectedly.
After updating your WordPress core, update any plugins. Again, WordPress makes it easy; highlighting any plugins to update with a red circle.
Lastly, check for theme updates—they, too, have security and bug fixes. Update your theme with caution. Depending on how much you customized it (and how the customizations were completed), the theme update may cause a drastic change to the look of the site. I don't generally update a theme unless there is a known issue.
Before running any updates, do a backup of your website. Check out our 5 Best WordPress Plugins for Your Business Website for two backup plugins. After completing any updates, browse your website looking for any issues. Be sure to test forms and other special functions to ensure that they are working properly. If something goes awry with a theme update, a backup makes it easy to restore to the pre-update version.
Don't forget to remove any disabled plugins and inactive themes. When a plugin or theme is inactive, WordPress doesn't load it, but it's still accessible and executable on the web server, which means it's vulnerable for hackers to find. If you aren't using a certain plugin or theme, remove it from your site!
Choosing a hosting platform that specializes in WordPress and is proactive in its approaches to security also increases your chances of decreasing performance, operational, or security issues. These managed WordPress hosting sites usually run backups and updates for you, making maintenance a breeze.
You pay a premium for this service, though; managed hosting costs around $20 a month (versus $5 a month for a non-managed service). They don't test your sites after updating so you will still need to do manual checks to ensure everything is running properly.
Increasing WordPress security can also be as simple as creating hack-proof passwords and changing them frequently. Schedule a date on your calendar so that you receive a notice every couple of months that it's time to change your passwords. Make sure to include symbols, numbers, and capital letters in your passwords, too, as this helps with securing your site.
Now that you have a website for your business, keeping it – and your business – safe should be a part of your everyday business practice.