What do the best designed websites all have in common?
In short, they keep their well-defined target market very clearly in mind. Contrary to this best practice, website design so often begins with and centers around the business itself; the information that needs to be presented: who we are, where we are, what we do, where to find it, how much it costs, special offers – everything!
Stop right there. Rewind. Take a deep breath. Start again by getting into the head and heart of your target market. Who is this person? What are they thinking about when they need what you offer? What are they feeling? You can't be everything to everybody; trying to do that most often ends in failure. What leads to success is knowing your target audience and helping them find the right solution.
To shed a little light on how this can be accomplished through great website design, we share three client examples as mini case studies. Each of them illustrates a different aspect of how understanding your target market leads to the best website design.
Example 1: Know the problem your audience needs to solve and address it.
Susan Keane Baker is an author, professional speaker and expert on service quality, risk management, patient satisfaction and patient relations in healthcare. Her depth of knowledge is amazing in this complex field.
Susan has many different topics on which she presents, and several books she has written. However, the www.susanbaker.com website is fairly simple, despite the depth of content. It's not cluttered; there's not a big list of all her presentations on the home page.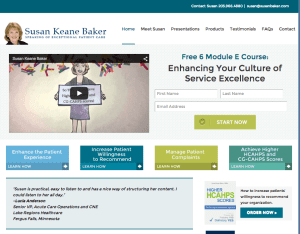 Instead, the home page directly addresses the needs of her target market – what problem are they looking to solve? Are they looking to enhance the patient experience or manage patient complaints? The website navigation addresses these issues, drawing the visitor further into the site for the most relevant information to them. The website design is cohesive and clean, and does a great job of helping visitors quickly get to the content they need. This comes from understanding the segments of her target audience and their interests and needs.
Example 2: Consider your target's mindset in the website design.
Understanding your target market's needs also happens on an emotional level. Meredith Dekker is a Certified Divorce Financial Analyst – she provides expert advice on the financial issues of divorce. If a person is in her target audience, they are usually going through a pretty rough time.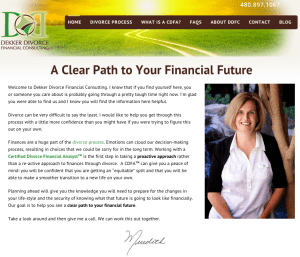 The design of her website dekkerdivorceaz.com takes this into account. Through the visuals (a bright horizon, soothing colors, a friendly informal photo of Meredith herself) and the copy (in the form of a personal note, using a calming and optimistic tone), the website simply explains a complicated process. It is designed to convey the reassurance and confidence that Meredith's service provides.
Immediately after its launch, the website started proving its effectiveness, as Meredith shared with us:
I just have to tell you this.  Yesterday I was at a luncheon, sitting 2 people down from this lady I had once spoken to briefly.  She said, "I could tell from your website that you are such a compassionate person and you really care about your clients."  I said thank you of course and I asked her, "You got all that from my website?" She said, "Yes, it was very revealing."  Wow, I don't think you could have done any better job than that!  Thank you!
She received this very positive, unprompted feedback and also received three new clients within the first week of re-launching her website with the new design. Meredith's website continues to be the source of a steady stream of new leads.
Example 3: Make it easy for visitors to take the next step.
Anne McAuley is a near-and-dear to us freelance writer. When she asked for help redesigning mcauleyfreelancewriting.com, we were thrilled. First, because she's a great writer who knows her audience and clients. Second, because the old website was cluttered and didn't reflect the professionalism of Anne's work.
We helped Anne become really clear on the two main goals for her website:
Create leads for her business.
Build her email list.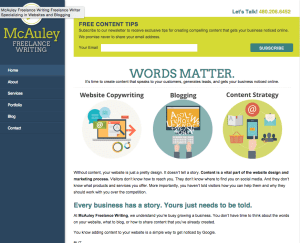 The new website accomplishes these goals with a simplified and more traditional site layout. It is now easy to find the contact page. The email sign-up is in a prominent position at the top of each and every page. Attention-getting, yet not distracting, these calls to action make it easy for visitors to take the next step.
As a business owner, you know that the best way to close a sale is to ask for the business. So often, we see business websites that do not feature a call to action that directly leads to business results. Leave no doubt and make it easy for visitors to become buyers.
Anne has already told us that she's received more inquiries from her new website than ever before. We love when that happens!
Know Your Audience
In good website design—as in everything you do—start by understanding your target market. Get to know them deeply; their mindset, their needs, their emotions, what solutions they need. Then every aspect of your website design—layout, navigation, colors, copy, images, everything—will become clear and work harmoniously. That's what makes the best website design.