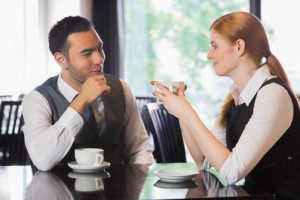 You've probably heard the buzz about marketing automation and for good reason. Automating communications increases your productivity and decreases response time. Despite the temptation, there's one aspect that you simply can't (nor should you) automate—a personal relationship. Having a personal relationship (and yes that means talking in person from time to time) can mean the difference between so-so client retention and AWESOME client retention. Since you might not be sure of how to accomplish this, we have a few relationship marketing examples to get you started.
The best foundation for a solid business relationship is to make a memorable impression. Occasionally sending a snail mail card instead of an email – or maybe popping in to a client's business with goodies – sets you apart, creates a lasting impression and goes a long way to deepening your relationship.
It's the time of year when we're all thinking about connection and how to show appreciation. Here are three easy relationship marketing examples you can use to say thank you:
Mail a Card
We do it so rarely that taking the time to send physical mail grabs attention. Sending something in the mail doesn't have to be a lot a work—no, you don't have to run out to buy a card, get stamps and then wait in the line at the post office. A tool like Send Out Cards does the work for you. Don't forget your personal message—share something you admire about the way they do business or why you enjoy working with them. Taking a few moments to compose a personal message makes the gesture even more meaningful.
Send a Gift
Whether you mail something or drop it off in person, the key to a successful gifting is choosing the right gift. Pick something that is useful and you'll be top of mind every time you client uses your present. Shopping local makes the gift even more thoughtful. We love D'Vine Gourmet in Chandler. They carry a wide range of Arizona made and other handmade items, including wine, caramels, popcorn and more.
Let's Do Lunch!
There's simply no substitute for one-on-one time. If it seems overwhelming to have lunch with everyone, make it a monthly event. Block out the first Friday of each month as your client lunch day, create a list of your best clients and start scheduling! You'll be through the list in no time. At lunch, don't make idle chit chat. Be sincere in expressing your appreciation and ask your client about hobbies or family. Taking the time to get to know your client outside "work" shows you do business on a personal level and care about their success. For bonus points, find out (in secret) if they have a favorite restaurant and take them there.
Connect with your clients on a deeper level not only benefits your business, it benefits you, too! Personal relationships are the foundation for successful businesses and happy people. How will you connect in 2017?