Workforce readiness and how it led to the Out of the Box Challenge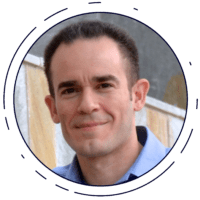 Do you miss the feeling of satisfaction that comes from a long day of physical labor and working with your hands? Are you interested in learning more about alternative pathways? Do you have a child or children who demonstrates excitement and inspiration when it comes to creating or building things?
The world is changing. Things are more technologically driven, college is overly encouraged, and skilled workers are becoming a rare commodity. This can make it extremely difficult for businesses to find and hire workers with the experience, understanding, and finesse needed to work in the carpentry business. Workforce readiness is critical.
Unfortunately, as Chris Valenti states, the inspiration for this field of work needs to start early and with schools abandoning shop classes, things are going to get worse before they get better. People are consumed with their mobile devices, which encourage buying something online rather than actually building it on your own.
That's why Chris Valenti and his company, CK Valenti Designs, decided to start offering an Annual Breakout Challenge. They wanted to help tackle the problem of dwindling blue-collar workers. This challenge is for middle school students (grades 6-8), is completely free, and gives participants an opportunity to put down their electronics and get creative with their hands. Parents and children alike were ecstatic for this opportunity last year and the turnout was amazing. If you're interested in learning more about this year's challenge, keep an eye out on their website and take a look at last year's results!
Chris Valenti is a professional carpenter with an electrical engineer degree and follows his passion building beautiful works with his hands. He and his wife, Kate, own and operate an innovative design company, CK Valenti Designs. They are best known as a specialty fabrication shop that merges outstanding carpentry work with interactive technology. In this episode, we'll hear Chris talk about the growing need for skilled trades people and how he's doing his part to help inspire children to put down their phones and work with their hands.
In This Episode, You Will Learn
The increasing demand of workforce readiness in trade companies.
How to find the inspiration you need to put down your electronics and create something.
Details about how to enter a free, innovative Annual Breakout Challenge held by CK Valenti Designs.
Key Quotes
"We need to bring that hands-on aspect back into our lives" – Chris Valenti
Society needs to stop putting a cloud over [not attending college]. Everybody is not meant to go to college…. but they do and it's not working, things need to change." – Chris Valenti
– "Now is the time to recognize opportunity because of the lack of skilled labor. If you become well versed and well trained in your trade, you will go to the top immediately and you will be sought after and in high demand."– Chris Valenti
"[Our Annual Breakout Challenge] proved that when given the opportunity to sit down, be creative, work with your hands and not with a computer, you really can excel at anything." – Chris Valenti
Mentioned In This Episode