Are You Playing Where's Waldo with Your Customers?
The secret to growing your small business is making it easy for customers to find you. And when it comes to finding you, it means both online and in the real world. For many small businesses, most of your customers or clients are going to be located fairly close to you. For this reason, you need to be very visible within your local geography.
Think about it in the context of the iconic game, Where's Waldo.
Quoting Wikipedia, "The books consist of a series of detailed illustrations depicting dozens or more people doing a variety of amusing things at a given location. Readers are challenged to find a character named [Waldo] hidden in the group. [Waldo] is identified by his red-and-white-striped shirt, bobble hat, and glasses, but many illustrations contain red herrings involving deceptive use of red-and-white striped objects."
If you're a naturopath, you want to fill your schedule with appointments for new clients. For that to happen, they need to see you when they are nearby and search for "naturopath" (online visibility) but they also need to be able to easily find your office when they show up for their appointment (real world visibility).
Just like playing Where's Waldo, you competitors are the red herrings. The last thing you want is for a new patient to walk into a competitor's office because they didn't see your sign in the lobby.
The good news is that there's an easy solution to make you more visible physically and virtually: local SEO citations!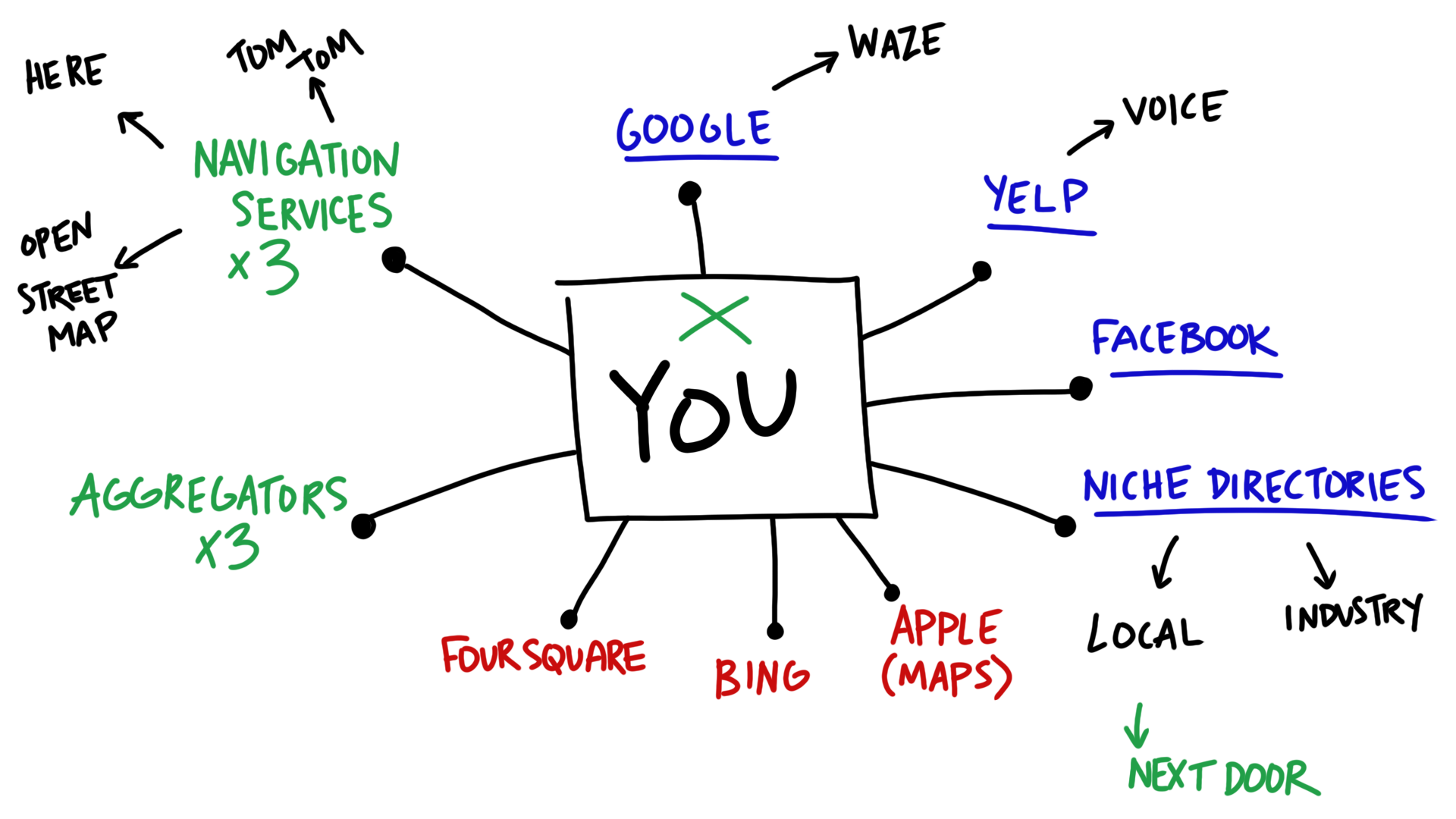 How to Set Up Your Local SEO Citations
The image above shows the local SEO citations sites that matter most to small businesses. Watch the video for a little more detail on each one and how they interact with each other. If you're not sure what online citations are or why they matter for small business, check out this article from Michael Quinn Agency. Or, if you're ready to get to work, use the links below to get instructions for adding your business to each site.
Start with your business! Before your start your local SEO citations, it's important to create a single document (download our Citation Tracker template) where you store all the important information about your business.

The most popular sites that create the biggest impact:
Want More?
Join our Google My Business Challenge! We're putting together a 4-week challenge to walk you through creating a GMB profile that gets results. Enter your name and email below to be notified when we launch. You'll not only learn everything you need to know to create an awesome profile, you'll also be entered to win awesome prizes!