GMB SEO is One of the Best Ways to Get Found by Your Ideal Client
One reason that you may not be attracting enough new business is that your ideal clients simply can't see you. Completing and optimizing your Google My Business (GMB) profile is one of the easiest ways to make it easier to find your business both online and in the real world.
Your GMB profile is just one of what digital marketing pros, like 910 West, refer to as citation or directory sites. To learn more, check out our video and tutorial covering the local SEO citations that matter most for small businesses.
Getting back to GMB SEO, the first thing you want to is make sure that you have all your business information gathered and and accessible to anyone who might be making changes to your online information. It's important to be consistent so we recommend creating a single document (download our Citation Tracker template) where you store all the important information about your business. We've included notes and suggestions for the making the most of all of the different parts of your GMB profile below so read on!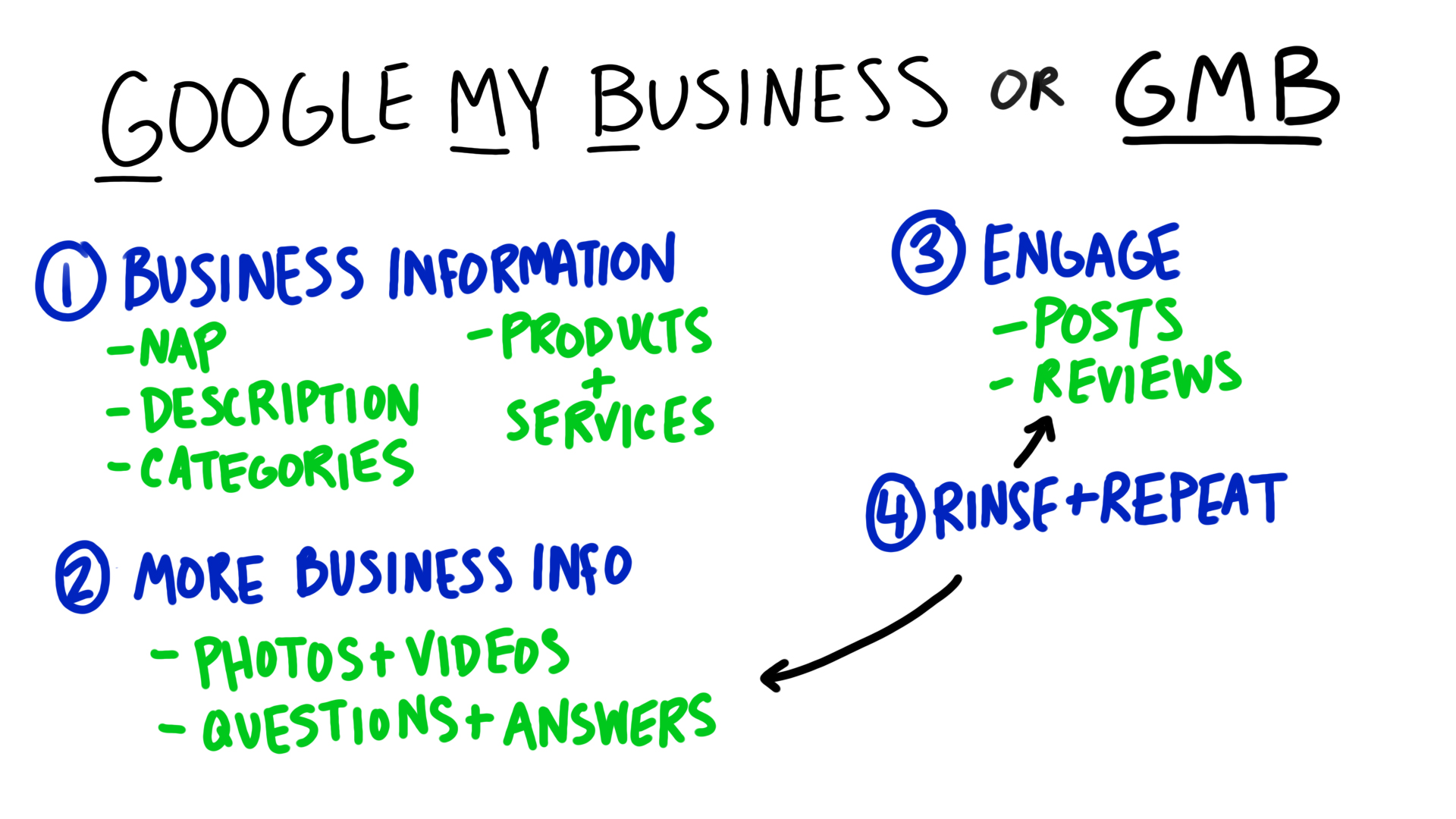 GMB SEO Checklist
Use the pluses to expand each section for tips and tricks for optimizing each element. Simply follow our checklist and before you know it you'll be at the top of the local pack due to your awesome GMB SEO skills.
Step 1: Complete Basic Details
Step 2: Add Products, Services or Menu
Only available for certain types of service businesses (dentists, attorneys, insurance agents, hotels, marketing agencies, and others).
Only shows up for end users in the Google Maps app right now (listed under Menu).
Create separate sections for the different categories of services you offer.
Create a separate service for each specific service you offer.

Enter the appropriate name and price of each service.
Add a description of each service up to 1000 characters. Take advantage of this space to describe each service for customers using rich keywords.
Only available for certain types of retail-oriented businesses.
It may not be practical to include every product or product category that your business carries. Focus on just the most important products and categories.
Is unique because you can add a button with a link to your website and will also include a call button (2 calls to action!).
If this feature in not available in the profile, you can use the GMB product post as an alternative.
Create separate collections for each product category you'd like to feature.

Enter the collection name.
Add a collection description up to 1000 characters. Take advantage of this space to describe each collection / product category using rich keywords.

Create individual products within each categories.

Enter the product name and price (price ranges are not supported).
Add a product description up to 1000 characters. We recommend using the same description that you would use in your product catalog.
Add a photo (should be 250px by 250px).
Add a call to action button and link to product on website.
Only available for restaurant-type businesses.
Only shows up for end users in the Google Maps app right now.
Use this in addition to a link to your menu on your website.
Create separate sections for each section of your menu.
Create a separate menu items within each section.

Enter the appropriate name and price of each menu item.
Use the same description of your menu item as you do in your actual menu up to 1000 characters.
Step 3: Include Optional Attributes
These are attributes that you can explicitly set for your business. Attributes vary by business category and can include items like: Women Owned, Wheelchair Accessible, Restroom, Languages Spoken, Outdoor Seating, Happy Hour, etc.
Go to your listing in Google My Business.
Click "Info" and then click "Attributes".
Select as many attributes as apply to your business. Do not spam these attributes as Google has been known to confirm these by asking Google users to submit subjective attributes (see below).
Subjective attributes are crowd-sourced from people Google believes might know about your business. Google asks questions like "Is there a wheelchair accessible entrance here?" "Is the parking here free?" and even asks people which images they think are more helpful.
You cannot control the subjective attributes Google asks about your business, nor the responses that people might give.
Certain types of businesses can monitor subjective attributes by using the Insights etab in your Google My Business listing.
Step 4: Amp It Up with Photos and Videos
Unlike the other items, this isn't a one time thing. You should be continually adding new photos and videos to your profile for best GMB SEO results.
For a great overview of photo best practices read the intro section here: https://localmarketinginstitute.com/google-my-business-checklist/#photos.

Businesses with photos get 40% more requests for directions. They don't affect ranking factor but do affect conversions.
If a business has filled out all their information – hours, phone number, and so on, a small image of their business logo will appear on the right-hand side of the business profile.
Photos are published instantly and captions are coming soon.
Images to Add:

Identity – Business logo, cover image, etc.
Team – your team in action, around the office, etc.
Storefront
Inside office or store
Anything that showcases your business
Not available for SABs but can add a lot of value to restaurant, hotel, beauty salon, spa, or any business where being clean, cool, trendy, etc is important.
For newer businesses, it's a low-cost investment that can have a big return.
Businesses and customers can upload.
Show under photos section until you have 2+ then show in a video tab.
Must be real footage of the business. Can't be stock.
Users or businesses can report videos for removal. Details on Whitespark.
Video guidelines:

Duration: Up to 30 seconds long (longer videos, up to 1:30 have been used)
File size: Up to 100 MB
Resolution: 720p or higher
Want More GMB SEO?
Join our Google My Business Challenge! We're putting together a 4-week challenge to walk you through creating a GMB profile that gets results. Enter your name and email below to be notified when we launch. You'll not only learn everything you need to know to create an awesome profile, you'll also be entered to win awesome prizes!